Rainbow Toastmasters meetings have a different theme every week, but Rainbow also hosts special meeting nights, where we celebrate and speak on the unique aspects of the LGBT community. Recurring events include Women's Night, XXX Night, and Open House events. Check this page regularly to see what's coming up! If you have any questions about any of our events, please feel free to contact us.
Annual Rainbow Toastmasters Events: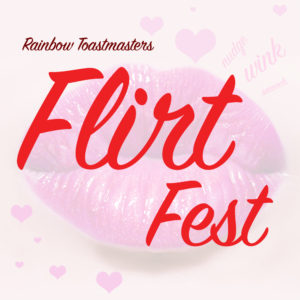 Flirt Fest
Thursday, February 8, 2018
.
Flirt Fest is an opportunity for members to let their hair down and feel the love! This meeting is always held near Valentine's Day. Members are encouraged to tap their inner flirt, and meeting roles are tweaked to encourage amorous language and speeches. It's a lighthearted meeting, filled with positive feelings and uplifting subjects. Love is in the air!
---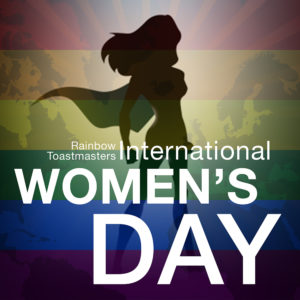 International Women's Day
Thursday, March 8, 2018
.
International Women's Day falls on March 8 each year, and Rainbow Toastmasters celebrates it on the closest meeting day. Women in the club are especially encouraged to fill each speaking and meeting role on Women's Day as we voice our respect, appreciation and love towards women for their economic, political and social achievements and beyond.
.
More information about International Women's Day:
Official Site
Wikipedia Entry
---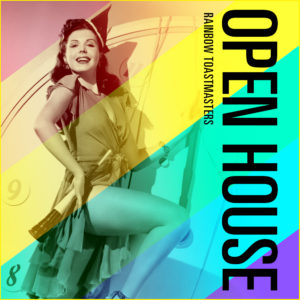 Open House and Club Anniversary
Thursday, September 21, 2017
.
Rainbow Toastmasters hosts two-to-three Open House events each year, but it all begins in January when people are ready to start fresh! Guests are enthusiastically invited to come by and learn what Rainbow is all about, see a few speeches that showcase what Toastmasters (and specifically Rainbow) means to its members, and how it has helped them with their presentation and leadership goals. Light refreshments are served, and ample time is allotted for mingling at the beginning and end of the meeting. Check back here for specific dates to all of our Open House events.
---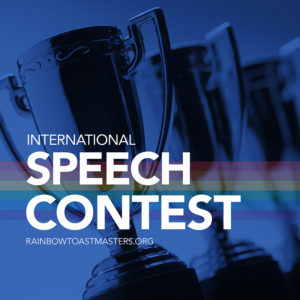 Speech Contests
International and Table Topics
Thursday, February 15, 2018
.
Speech contests are a Toastmasters tradition. Competition begins with contests at the club level, and winners continue competing through the Area, Division and District levels. Rainbow Toastmasters holds contests in the International speech category and the Table Topics category in February each year. For the International category, contestants present a five- to seven-minute speech on any subject they choose. For Table Topics, all contestants are assigned the same topic, which is presented to them the day of the contests as they are introduced by the contest chair. All members who are current and active are invited to participate.
.
More information at Toastmasters.org
---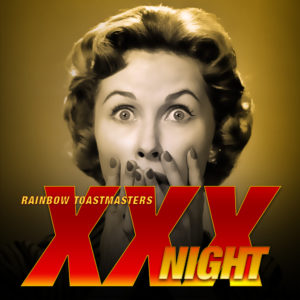 XXX Night


Thursday, October 26, 2017




.




Public speaking isn't always a formal affair. It can often take place in a casual setting like a birthday dinner or a private party—anywhere you might be called on to showcase your casual (or intimate) side. For this reason, Rainbow Toastmasters is happy to host its annual "XXX Night"!




.




THE SPIRIT OF XXX NIGHT


XXX Night is a playful, creative, and sex-positive event, where members speak on topics too scandalous or salacious for a regular meeting (or any other Toastmasters club). Attendees are encouraged to dress in sexy attire, and meeting roles are performed with a non-traditional, naughty twist (for example, the Grammarian may choose a "four-letter" word of the day).

Why do we do it? Because it's liberating! For much of our lives, many of us in the LGBTQ community have had to hide who we are. On XXX Night, we reclaim our right to flaunt our desires! XXX Night is about celebrating our turn-ons, turn-offs, and maybe even some funny misadventures in bed. It's also a chance to use language we wouldn't normally use in our speeches.

HISTORY
XXX Night began in 2009, and was originally called "R-rated night". A particularly vivid speech inspired the name change to XXX Night for 2010. In 2011 Kristy and Michael tied in a celebration of leather week and the Folsom Street Fair.
.
GUIDELINES
Dressing up in something that makes you feel sexy is very much encouraged! Partial nudity is acceptable, but please keep the privates covered. If you're planning to speak on XXX Night and can say "yes" to the following 3 questions, then you're good to go:

1. Does your content make you feel sexy?
2. Does sharing your content make you feel empowered?
3. Is the intent of your speech to push your own limits, not just to shock your audience?
---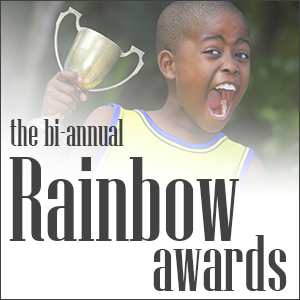 The Rainbow Awards (Bi-Annual)
March 29, 2018 and Late September 2018 (exact date TBD)
.
Every March and September, Rainbow Toastmasters reflects on the previous 6 months to celebrate our personal victories as speakers and leaders, and to put a few members on pedestals for their outstanding contributions to the club. Prizes include: Most Inspiring Member, Most Improved, Most Roles Taken, and more. We all come to Rainbow to better ourselves and overcome our personal obstacles, and the Rainbow Awards are given as a way to recognize and celebrate our accomplishments.