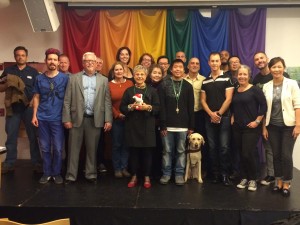 FUN!… We're serious about it!

We're serious about helping our members become the best communicators they can be while simultaneously having fun. At Rainbow meetings you'll meet friendly, creative people committed to supporting each other in overcoming the jitters, growing their self-confidence, polishing their presentations, and expanding their technique – and having a great time in the process.
Founded in 2005, Rainbow Toastmasters is the Bay Area's only communication skills training resource for the LGBT community. Rainbow welcomes everyone and takes pride that our membership reflects the diversity that is our home of San Francisco.
The results "speak" for themselves: Rainbow is one of the most respected clubs in the Bay Area, with an enviable list of awards, achievements, and contest winners including the reigning District 4 Champion of the Toastmasters International Speech Contest, Gina Grahame. Gina will be competing in the semi-finals against 97 other District winners from across the globe in Washington DC this August.
Rainbow is distinctive in its enthusiasm, encouragement and sociability. Our meetings are typically followed by dinner at a local restaurant, to which all members and guests are invited.
---
Subscribe to our events on facebook!
---
ALL Are Welcome! Come join the fun!
Every Thursday, 6:00 to 7:30pm
St. Francis Lutheran Church
152 Church Street (across from the Safeway) at Market,  San Francisco. 1 block from the Church St. MUNI Station
Buzz the button to the Parish Hall to be let in.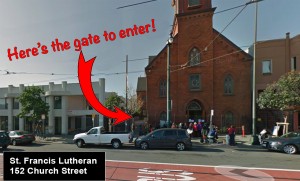 Rainbow Toastmasters is Club 822664, Division D5, District 4
Go to Our Youtube Channel Here